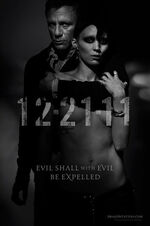 The new international trailer for the American adaptation of The Girl with the Dragon Tattoo was just released by the studio!
This new, longer trailer gives us better insight into Rooney Mara as Lisbeth Salander, Daniel Craig as Mikael Blomkvist and their unconventional partnership. If you didn't think Mara could pull off the darker Lisbeth character, watch the trailer below because she nails it!
The movie will open on December 21; are you excited? Think Mara can pull off Lisbeth?
Video
Ad blocker interference detected!
Wikia is a free-to-use site that makes money from advertising. We have a modified experience for viewers using ad blockers

Wikia is not accessible if you've made further modifications. Remove the custom ad blocker rule(s) and the page will load as expected.